Create a Digital Twin with ecoDriver BEMS
ecoDriver BEMS is an interoperable supervisory control solution that provides a transparent 'single pane of glass view of a buildings systems e.g. HVAC, HWS, Lighting.  The ecoDriver gateway integrates with building control systems and sensors and securely transfers building operation data to the ecoDriver cloud service.
By analysing a buildings energy consumption against its control strategy, ecoDriver BEMS can identify anomalies in a building's operation, modify as appropriate so that the building operates within its 'sweet spot' and maintains the optimised performance level to retain savings.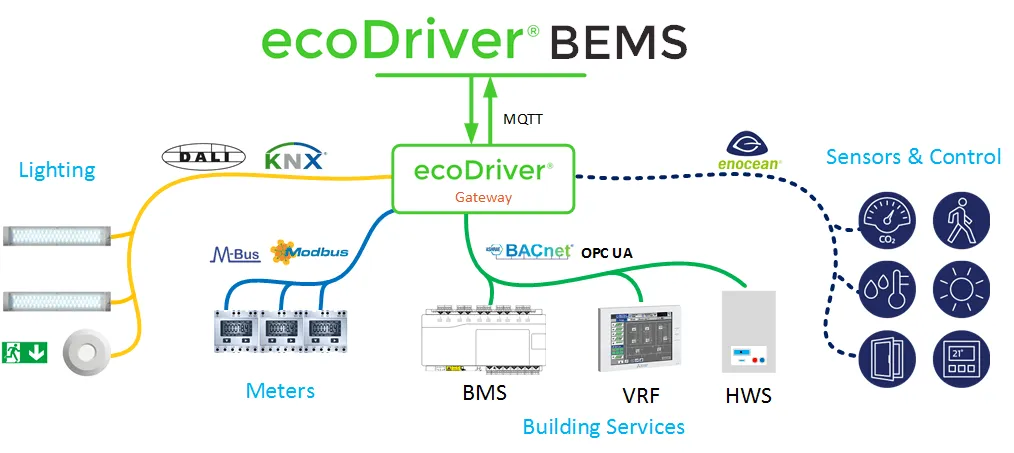 BMS install and upgrade
Be it a new build or an upgrade to a legacy BMS, we can provide an integrated, cloud capable solution that utilises standard interoperable building control protocols. We take time and great care to make sure the new system is commissioned properly so it works as intended from day 1. In addition we provide additional seasonal reviews to fully commission the system.
BMS Recommission
It is common for building control systems to be commissioned poorly or in some cases, not at all. Sometimes the systems deviate from optimal performance over time. The result is that buildings default to high energy consumption.
Installing the latest hardware without resolving the underlying control strategy will simply mean you have a new control system with all of the same problems. Our approach is different.
Where possible we prefer to recommission the existing system so that it performs at the levels it was originally designed to. This will reduce utility bills, improve the comfort of occupants and fund upgrades to newer technology in the future.