1 Building, 3 Energy Saving Opportunities, Zero Capital Cost
Using a collaborative approach to energy efficiency, ecoDriver® Low Carbon Consultants identified & fixed building control issues which were responsible for significant energy waste.
'Heating costs rise by about 8% for every 1°C of overheating.'  Carbon Trust
In March 2022 as a result of the findings in a pre-CEEP (understanding) audit, at a further education college, in Oxford, UK, we were asked to carry-out a more detailed health check of several building management systems (BMSs).
The pre-CEEP audit raised a number of questions concerning the control of plant & equipment, hence it was agreed that a closer look was required. Whilst the BMS health check covered several buildings, for the purpose of clarity, this case study focuses on just one of these buildings (whilst energy saving opportunities were found in all of the buildings investigated).
Understand
Issue 1: HVAC plant had been set to HAND which meant that it was running 24/7 and schedules, defined in the BMS were not being applied.
Issue 2: ventilation extract fans were found to be running 24/7, 365 days a year with no schedule applied.
Act
In each case described above the fix was quite simple to apply but the benefits were significant. Using granular energy consumption data from the ecoDriver energy management platform, installed several months previously, it is clear that these changes have resulted in a reduction in energy waste to the tune of more than £5,000 per year.
Understand
Issue 3: a number of heating temperature set points were higher than necessary, hence these were reduced. For each 1°C reduction in heating temperature set point an approximate 8% reduction in energy consumption will be realised.
Act
The heating temperature set points were adjusted in minutes and the effect will be monitored over the coming heating season. Again, with the data provided by ecoDriver, using regression analysis, it will be possible to verify the expected energy reduction.
The building described above is just one on a site of seven others at the college, each with its own HVAC systems and BMS, hence the opportunities at this site, for further energy savings, undoubtably exist. With a bit of effort, relevant expertise and a determination to avoid making assumptions, it is possible to reduce cost, energy consumption and emissions, immediately, at minimal cost.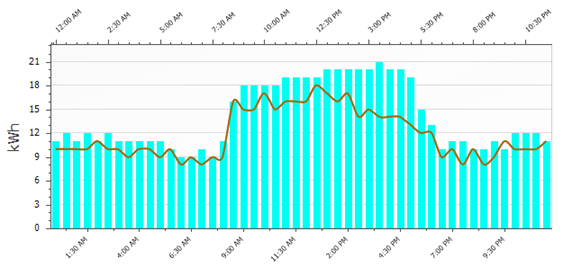 Background
City of Oxford College is part of the Activate Learning group which has seven colleges in Berkshire, Oxfordshire and Surrey.
Sustainability is one of the groups strategic drivers which guides their commitment to eliminate energy and other waste and reduce carbon emissions and cost.
When your facilities staff are very busy, every day, dealing with the needs of students, staff and building services, it's difficult to find the time to hunt down energy waste.
That's where we came in and helped. We implemented our ecoDriver platform to capture relevant data, and with our expertise we were able to identify and immediately fix, the issues causing energy waste.