CEEP reduces demand for heat by 30%
'Through the CEEP process, the ecoDriver team helped us find energy waste which enabled us to reduce heat demand by 30%'

Jamie Firth  – Assistant Director of Estates
Using a systematic approach to energy efficiency, ecoDriver® Low Carbon Consultants identified building control issues which were responsible for overheating and energy waste
Understand
The first stage in understanding a buildings performance is to measure and investigate how the energy is used and how this is controlled.
To do this we:
Installed heat meters & captured the data in the ecoDriver® energy management platform
Conducted a decarbonisation survey and Collaborative Energy Efficiency Programme (CEEP)
There should be close correlation between space heat energy and outside temperature i.e.
warmer outside = less demand for heat inside
When using a linear regression to compare Heating Degree Days and energy consumption, an R2 (correlation) value > 0.75 would indicate good correlation. Using the data we captured, we calculated an R2 value of 0.41 indicating control issues.
Further investigation into the buildings heating controls found that the 3-port mixing valves had been manually overridden in the previous winter as a quick fix response to an issue but it had not been returned to automatic control once the issue was resolved.
Heat was being delivered at +70°C to the heating circuit despite weather compensation requesting closer to 40°C. This meant that the back-up boilers were running alongside the CHP to respond to the incorrect heat demand.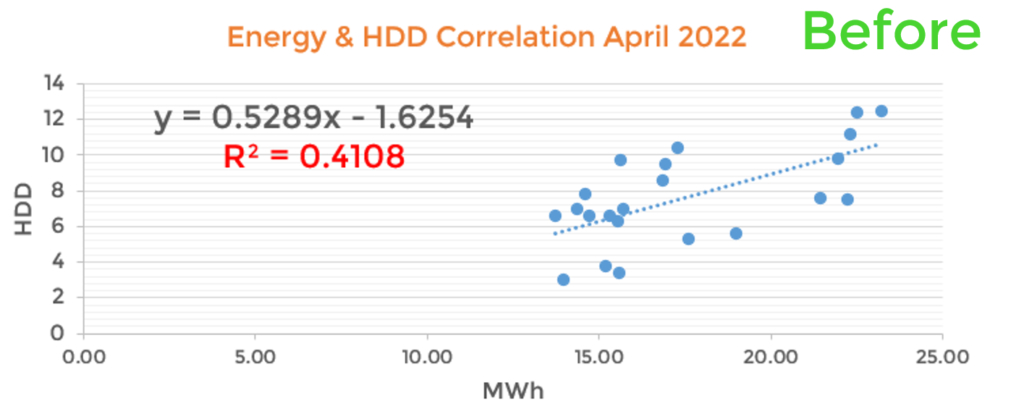 Act
Switching the strategy back to 'Auto' immediately reduced heat demand by approx. 30% and removed the demand for additional heat from the boilers. This was a direct reduction in gas consumption and as such cost and CO2e emissions.
Matching supply to demand also improved occupancy comfort in areas of the hospital that were overheating due to the higher flow temperatures.
It is a common assumption that if a building has a control system that the heating and cooling of the building is managed, however things change over time and this is not necessarily the case.
Finding and removing energy waste is a significant step towards decarbonisation.